A  walk along the four grand, major Old Amsterdam Canals
Prinsengracht, Keizersgracht, Herengracht, Singel, their individual character and history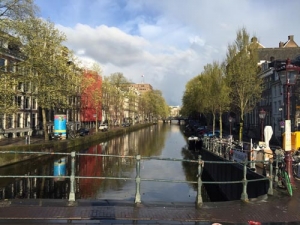 Join me for a great inner city walk. The four main canals of Amsterdam form the best preserved large 17th century inner city ensemble anywhere in the world. This man-made set of 4 semicircular canals area with their characteristic canal houses are now part of the UNESCO world heritage list. Wonderful rhythm, unadorned styles and a feeling for subdued posh design in architecture. No ornament and no frills! There is more than enough natural harmony and beauty in surfaces, brickwork, window spacing and the roof line.
In May, 1940 the Dutch government made a momentous decision, just after Rotterdam was flattened by the Nazis. The Nazis threatened to eradicate all ancient Dutch cities. The Royal House and the cabinet of Ministers fled to England, leaving this country in the claws of German occupation. This decision saved the architecture, but not the 104.00 Dutch Jews who were murdered.
The world of nature is represented in a market on a short stretch: the flower market at Singel / Munt abounding with thousands of tulip bulbs and hundreds of other flowers and plants.
The names of the four main canals – Prinsengracht, Keizersgracht, Herengracht, Singel -, can be perfectly memorized from the outside to the inside one: Please Kiss Her Softly. We will discover those main canals starting with P K H S. Each canal has its own character, style and objective: trade, storage, housing, including the bedt housing to Impress the Neighbors on Herengracht…
When we walk in the area of Dam square and Oude Hoogstraat we may also discuss how the United East India Company (VOC) was created, starting modern capitalism and the stock market as we now know it now.
The canals were built in four phases of  extensions. The third extension was the largest and started in 1609, and stretched all the way from the Brewers-canal including the Jordan area to the Leidsegracht (Leiden-canal) as a temporary stop.  After population growth, the fourth extension started from there in 1660. Standing on the Leidsegracht, Leiden canal one can actually see two building phases.
We may also make a detour to the Beguin Court (Begijnhof).
Drs Kees Kaldenbach: "…he is wildly overqualified to be a guide . That is his secret… Trust me on this." Gabe. Statement made February, 2017.
STORES
Design Stores. Visit these unique stores for Dutch cutting edge industrial design: Droog – on Staalstraat, Moooi – on Westerstraat. Between the center and the Jordaan area are the fine specialized shopping streets called nine streets – 9 streets – negen straatjes, such as Berenstraat. Near by is the successful former age of enlightenment gentlemans club Felix Meritis. Now a cultural center.
Antique Stores. Right opposite the Rijksmuseum (in front) is the highest concentration of antique stores on Spiegelgracht and Spiegelstraat, For a quick and superior lunch bite excellent soups are in Soup enzo, located on Spiegelstraat and also on the block of the Rembrandt House, on Jodenbreestraat.
AMSTERDAM QUALITIES: CREATIVE SPIRIT
From spring to winter Amsterdam and other historic Dutch towns offer a creative, energetic and vibrant civic culture full of life. Dutch towns present a well-ordered, neat society marked by historic architecture, a fine set of canals and streets and these core qualities:
Civic virtue, Spirit of Enterprise, Freedom of Thought and Creativity.
Civic virtue: the local traders and businessmen forming their own power base and becoming more powerful than the old nobility.
Spirit of Enterprise: An attitude of outward looking, sailing the seven seas of the world looking for trade, profit and spheres of influence.
Freedom of Thought: Erasmus on the high worth of every individual man. Coornhert writing law texts on how to be decent to prisoners. Grotius inventing international Sea law: "make peace, not war", Spinoza jump-starting modern individualism and freedom of thought, opening the first door to the Age of Enlightenment.
Creativity: A country brimming with art, industrial design, out-of-the-box attitudes, a sense of humor and lateral thinking. Provo, hippies, youth culture and anti-authoritarian attitude starting out as fringe movements, and their lifestyle becoming mainstream.
Amsterdam is one of the best preserved inner cities. Walk with professional Art History Scholar with excellent teaching skills. Focus on History, Architecture, Society. In-depth or general level. Mornings are best.
Larger images are available on this old school site.
Tour by professional Art History scholar with excellent teaching skills. Specialist in Fine art and Design, Architecture and History. VIP entry.