Amsterdam (Historic) Museum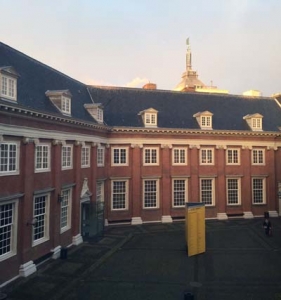 Join me for an educational visit to this Amsterdam history museum. Housed in a grand 17th c. municipal orphanage, this museum displays the history of Amsterdam. One wing is devoted to the growth of the initial fishing village 'Amstelredam' after 1200. Another wing addresses modern issues in Amsterdam society. In between exists an interesting covered walkthrough alley, opened 1975, which displays outsize paintings. The latter can even be visited for free without buying a ticket.
Exhibitions include paintings, wooden models, historical items which shed light on how Amsterdam slowly grew into the foremost trading empire and port of the Seventeenth century. The life of tycoons, traders, shipbuilders, navy captains, United East India Company, spices and much more.
I will tell you about the life of city orphans. The local laws were pretty strict!
Drs Kees Kaldenbach: "…he is wildly overqualified to be a guide . That is his secret… Trust me on this." Gabe. Statement made February, 2017.
Larger images are available on this Old Skool site.