Private Art Historian, specialist in Vermeer, Rembrandt, Van Gogh, will visit New York City at the end of March, 2019
Seeks place to stay. Offers outstanding tours for free (as a trade-off)
Private Art Historian will visit New York City for the 20th time. Object: Museum visits.
Seeking: a room and a bed to stay in NYC, possibly in Manhattan, Queens, Brooklyn, only in the last week of March 2019.
Offering: Able to pay a small rent or fee. Offering for free an absolutely great art tour of the Metropolitan Museum of Art, Dutch paintings, and/or Frick Museum – as trade-off. Quality level? Click on testimonials.
Quiet kind personality. Well behaved house guest. Excellent for Museum Patrons, Museum Friends.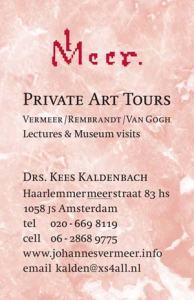 All about Drs Kaldenbach in www.johannesvermeer.info. Please contact me by email in Amsterdam, Holland: kalden@xs4all.nl.