Amsterdam for expats with cultural interests
For those who are living in Amsterdam as expats, Drs Kees Kaldenbach is the one-stop advisor-mentor-ambassador for those new to  local art, architecture, customs and culture. Many quality walks and tours are available. The offer also includes VIP entry museum tours, architectural walks or an introduction to local mores & manners.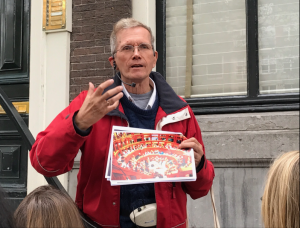 Trained as an art historian and tour guide, with some 20 years of experience, Kaldenbach will ease you into the cultural life and give you many handy pointers to survive life in Amsterdam.
He will explain:
How to avoid crashing in your bicycle when following tram rails.
The intricacies of public transport ID-cards by train and bus and tram and how to get 40% rebate.
How to beat the crowds in Rijksmuseum, or the Van Gogh museum.
How to get into Anne Frank House without waiting for two hours in the rain.
Culture shock: learning why things are done in Holland the way they go.
For instance: open windows: how come most inhabitants do not believe in closing their curtains at night.
Effects of 1960s hippie life – anti-authoritarian lifestyle still visible in everyday life of Amsterdam.
How to effectively deal with Dutch people who seem too direct, too crass, too in-your-face.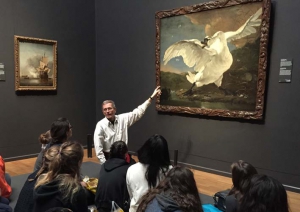 etc.
Drs Kees Kaldenbach: "…he is wildly overqualified to be a guide . That is his secret… Trust me on this." Gabe. Statement made February, 2017.
Tour by Drs Kees Kaldenbach, a professional Art History scholar with excellent teaching skills. Specialist in Fine art and Design, Architecture and History. VIP entry. Entry best at from 10AM.