Amsterdam for for University groups, Journalists and Writers
Practical help with research, fact finding, inspiration and more
During the last 20 years, I have taught many university groups and PhD student groups travelling in Europe in order to broaden their outlook on societies. Usually this takes the form of extended walks in the city with stories that fit that proper site. I can also present topical workshops and lectures.
Feedback: "We had a delightful tour of Amsterdam with Kees Kaldenbach. He is knowledgeable and passionate about the city, and is very good at making the details of many aspects of the city come alive. Many students in our group continued to talk about the tour throughout the day. That's solid evidence of good teaching, This tour was one of the high points of our visit to Amsterdam!" David Wong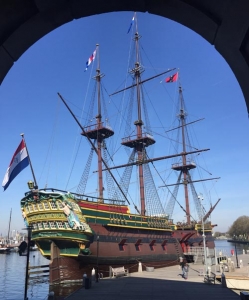 For journalists and writers on Amsterdam subjects, I provide practical help with research, fact finding, inspiration, gopher jobs, opening doors and more. I have studied local history extensively over the last 45 years. Lots of knowledge of facts and philosophy are thus stored  in the hard-drive inside my brain. I can thus help you with many pointers and ideas.
I have also assisted many journalist and writers with walks for the Dutch Tourist Agency in Amsterdam Walks during the last 20 years.
In the Mauritshuis, 2018. I was guiding four clients. A lady was keenly eavesdropping and I invited her in for the next short subject, a talk about the Goldfinch by Fabritius.
This was her emailed response a day later:
"Dear Drs. Kaldenbach, I want to thank you for including me "for two minutes" today during your tour session. It was very nice of you to perceive my interest in knowing more about The Goldfinch painting. The information was extremely interesting to me. I have been to a few museums during my visit to Amsterdam and paid for tour guide's services. However, I learned more from you in those two minutes than an hour with others. Your kindness to include me was appreciated and want you to know your knowledge about art is inspiring.
My best, Jil Jensen."
You may get a kick out of the Ambassade hotel Library. Here, famous authors leave signed copies of their work when they stay there.
Movie directors tell me: You have knowledge, passion and you know how to "sell" your points so that viewers see a man who enjoys talking about your subjects.
"Kees Kaldenbach accompanied a Samuel Courtauld Society visit to Amsterdam and Haarlem in May 2017, to support a Professor from The Courtauld Institute of Art. His organisation was extremely efficient. He was well-informed about the history and culture of the Netherlands across all historical periods, communicating a wealth of up-to-date information in a lively and accessible way."
After a 2018 tour in the Hermitage, for two academic guides. Dr Julia Gerasimova responded: :
"My colleague and I attended a tour of Mr. Kees Kaldenbach about the exhibition "Dutch Masters" in the Hermitage on the Amstel.
We were both very satisfied with this tour. What we liked was that Kees asked us about his wishes at the beginning of his tour and adapted his story for us.
Within an hour and a half we had a fascinating tour about the mastery of Dutch artists. We have learned a lot from Kees, including the characteristic features of many famous artists. Kees also asked us a lot of questions during his story, which worked very stimulating and forced us to view the artwork with fresh eyes."
Tours by professional Art History scholar with excellent teaching skills. Specialist in History, Social movements, Fine art and Design, Architecture. VIP entry.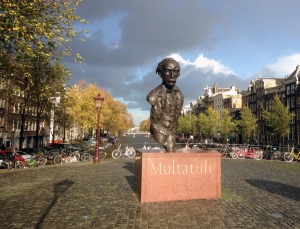 Drs Kees Kaldenbach: "…he is wildly overqualified to be a guide . That is his secret… Trust me on this." Gabe. Statement made February, 2017.
Image to the right: Holland most famous author, Multatuli, who single handedly blew up the system of repression in what is now Indonesia. His book was Max Havelaar. Still eminently readable, and translated into English.