Private Art Classes, via Zoom and Powerpoint – for Distance enjoyment and Learning. Live Webinar.
Take private classes with an outstanding art 'professore' who wrote a book on the life of Vincent van Gogh. 40 years of expertise. Make an appointment and enjoy a great private Zoom + Powerpoint presentation on the life and works of Vincent van Gogh and his clash with Gauguin. And how Gauguin carved out his own pathway.
Listing of all Powerpoint art classes on Vermeer, Rembrandt, Van Gogh etc.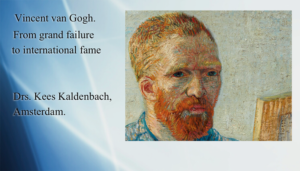 Vincents life and works. A private Powerpoint presentation, online, using Zoom, discussing the life and the best work of Vincent van Gogh.
If we would follow the timeline of Vincent's career, only the last 3 years would be riveting and worth while. Therefore author and art historian Drs Kees Kaldenbach first shows a series of great masterworks from 1887-1890 and then retraces steps to see how his life developed after his birth in 1853, a painful series of mishaps and failures. A lesser man than Vincent would have given up! Excerpts from my book on Van Gogh.
If one takes the helicopter view, and if one divides Vincent van Gogh's entire timeline from 1853 to 1890, it is clear that only the last three or four years gave rise to fantastic world class art.  Everything made before is rather dull, brown and grey with rough line drawings that would make an art professor cringe.  So in this talk I jump right into the fabulous Landscape at La Crau near Arles, and we admire the Vase with Irises, made in the madhouse, and the works made after release in Auvers-sur-Oise, such as the Corn Field with Crows. From there we backtrack to his humble beginnings. Full live commentary by the top-level guide Drs Kees Kaldenbach, art historian living in Amsterdam with 20 years of teaching experience.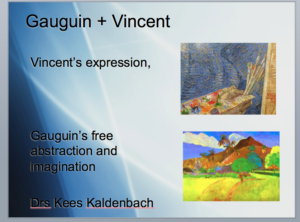 2. Gauguin and  Vincent van Gogh. In this powerpoint we juxtapose the works of Gauguin and Vincent van Gogh. How their life intersected – with dramatic results. These two personalities rubbed each other and the local population and authorities wherever they went. In this Powerpoint presentation, using Zoom, I include the latest letter written by Vincent and Gauguin to an art friend, in which they discuss visits to the local brothel. What reason did they give? For bringing new themes into the paintings. Full live commentary by the top-level guide Drs Kees Kaldenbach, art historian living in Amsterdam with 20 years of teaching experience.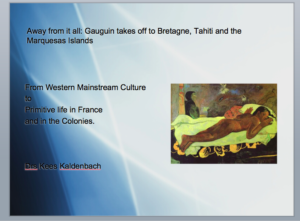 3. Gauguin who grew up in Peru, presented himself in Europe as having savage blood. He joined the merchant marine and travelled the world. In Paris he had a short career in a banking firm, until the banking crisis if 1883. Travelling to Brittany he succeeded in painting the local natives – their rough and simple farm life. Later on, after Paris and Arles, Gauguin went to overseas to Tahiti and other parts of French territories, French Polynesia, and lived the life of a hippie – a hedonist, in poverty. The local authorities and clergy were up in arms at his excessive behaviour. He bedded very young girls and suffered from a nasty disease. What is more to the point: his works show a fabulous sense of line and colour, and colour fields and probe into the world of carefree hedonism. Full live commentary by the top-level guide Drs Kees Kaldenbach, art historian living in Amsterdam with 20 years of teaching experience.
Do you want to make an appointment? Please contact me by email or phone.  Please note the time difference between Amsterdam, Holland and the East Coast of the USA.
---
Technical data:
Please send me an email stating your name and whether you wish to connect with multiple laptops. I would need the email addresses of each party.
You need a computer or laptop with a webcam, or Tablet, and run Zoom software.
After we agree on the price, date and hour, and you send me the agreed money via PayPal or via Bank account, and I will send you a connection link.
We can do a 1 hour or 1.5 hour session. With Zoom I can reach up to 99 email addresses.
---
Feedback from a NYC firm, April 2020: "I wanted to send a HUGE thank you for participating in our classroom yesterday. I really cannot say enough how much we appreciate all your help and energy towards this project.
We are still collecting feedback from our members and will send that along when we have it but overall I think it went very well!"
Feedback, 31 July 2020, from Carnegie museums of Pittsburgh after my class on Van Gogh: "The class was a great success, and we would love to work on scheduling another class with you featuring Vermeer and Rembrant.".  Feedback 25 August 2020: "You are our most popular presenter and we will book you for many more presentations."
Feedback August 2020 from Providence Art Club, with a rich history of 140 years of lectures: "Your class was extremely well received, we will make more bookings this year."
Feedback, August 2020 from the Arts society Sebarts .org in Sebastopol, California. "We loved your Zoom classes and will book more!".
Feedback December, 2020: "Hello Jeannette, Today's webinar was absolutely wonderful.. content, delivery. I learned a lot and thoroughly enjoyed the hour.. When the professor asked if he could go longer, I was inwardly yelling. "Yes, please!!! "This professor is wonderful..a natural teacher and obviously an expert on Van Gogh and the time. Makes me yearn for my college days. I truly hope you will keep me in mind for future presentations like this."
.
---