Visit the famous Amsterdam Rijksmuseum with a PhD level, top-end guide, in a Museum Curated Tour
VIP entry, a tour with an excellent art historian guide for a curated museum tour
NEW all-Rembrandts in Rijksmuseum-2019
NEW  Stolen Vermeer from Boston, resurrected.
Join me in the Amsterdam Rijksmuseum. The Rijksmuseum stands out as the super-high quality Museum for Dutch Fine Art. Come visit this great Rijksmuseum Amsterdam, Holland and enjoy its outstanding 17th century Dutch master paintings, its Delftware and exquisite dolls houses.
Or deepen the international relationships presented here: between The Netherlands-Indonesia, Netherlands-Japan, Netherlands-Turkey, Netherlands-Germany, Netherlands-Italy, Netherlands-USA, Netherlands-Africa, Netherlands-Brazil, Netherlands-Suriname, etc.
Are your into Vermeer? Join the leading Vermeer specialist and art expert Drs Kees Kaldenbach. Arriving at at 8.55 am with my VIP pass, and entering quickly, you will be probably the first in front of the museum's four outstanding Vermeer paintings. Docent Kaldenbach believes in a question and answer approach in the time-honoured style of Socrates, allowing the client to discover the painting step-by-step. With many clients, we usually spend over half an hour probing deep into each of the 4 Vermeer paintings.
After, we move on to Rembrandt in the Rijksmuseum's Gallery of Honour; standing directly before superb middle and late Rembrandts in the Rijksmuseum. See his brush strokes and imagine yourself standing just in back of the great master. His late style shows wild, expressive brushwork and ability to penetrate the human soul.
In the room with early Rembrandts, discover how the painter reached mastery within just a few years after turning 20. We will discuss how he matured under his first masters, then got under the spell of Caravaggio and reached an incredible adult level in artistry at only age 24.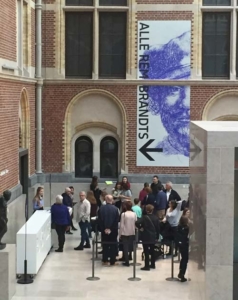 What sets Rembrandt apart from other artists like Durer, Lucas van Leiden, Elsheimer? How fine or bold are Rembrandts results in the etching and engraving lines and in oil paint? Learn how to see and appreciate how he employed techniques in order to get his ideal: the 'Most natural movement'.
A bit of social history and the personal history will also serve to put Rembrandt in perspective. Was he really a cantankerous man who alienated the wealthy patrons after 1642, the year of the Nightwatch? I will be there to assist you in viewing the works of art and I will help you to hone your own way of seeing. Art appreciation in front of the real thing.
Outstanding Mediaeval collections with an important group once collected by Mannheimer. This story is like a James Bond tale, with Monuments Men.
A fine large ship model, probably the best one in the world.
Two outstanding dolls houses, forming an encyclopedia of daily life in the 17th century.
Did you get hungry for more Rembrandt? Another day trip is also possible to the Royal Collection Mauritshuis, in The Hague, preferably arriving there at opening time (10 am) to be able to admire the museum's three superb Vermeers and all Rembrandts. Nothing beats standing face to face in front of a superb Rembrandt in the Rijksmuseum, Amsterdam. You can see the brush strokes and imagine standing just in back of the great master.
When in Amsterdam you have the incredible choice of three Rembrandt experiences:
1) Some of the best and grandest Rembrandt paintings in the Rijksmuseum.
2) Experiencing Rembrandthuis, the home he lived and worked in, with some great paintings and numerous etchings.
3) Seeing all 330 Rembrandt paintings in reproduction, in the Magna Plaza building just behind the Royal Palace/Town Hall.
===
Rembrandt is one of the most gifted artist-painters in world history and he may be the nr 1 most accomplished and very best of etchers and engravers who ever lived, worldwide. In any country or period.
He is a grand master in terms of technique but also in terms of storytelling and expressive, emotional qualities. (Did you know that Russians consider him a Russian native in terms of their heart and soul?)
Nothing beats standing face to face in front of A REMBRANDT and viewing the real thing. Amsterdam is a fine place to do so because here we have the Rijksmuseum (State museum of art) and the Rembrandt House, the place where he actually lived and worked for many years.
Although leafing through illustrations in art books and images on the Internet are fabulous for study purposes, and indispensable in order to learn how to distinguish and compare, understand and classify, there is one experience paramount.
Standing face to face with an actual painting by Rembrandt or an actual etching by Rembrandt may become a thrilling and moving event.
The Rijksmuseum is the prime place for viewing paintings in Holland, although the museums in The Hague (Mauritshuis) and Rotterdam (Boijmans) are a good alternative. Boijmans will close for a 10 year renovation!
===new in 2018===
Please open this on a big computer screen:
https://artsandculture.google.com
Choose categories => Johannes Vermeer
From the page with all 36 images, choose one Vermeer painting, then move the cursor over the right hand small image, after pressing the + sign.
===
Wheelchair assistance is possible. Top-end guide, see Testimonials in menu above.
Larger images are available on this old school site. Visit Rijksmuseum with Children.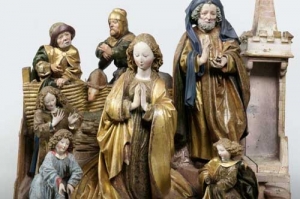 To be booked separately: Three in-depth tours:  Mannheimer,  Christian art,  Applied art. For museum aficionados!
Dr Fritz Mannheimer as a Fine Art collector, 1400 items now in the Rijksmuseum.
Christian Mediaeval Art and later Christian art. How faith permeated all aspects of daily life.
Enjoy world-class Applied Art including top-class furniture, goldsmithing, crystal work, and Delft Blue.
Private Guided Tour by professional Art History Scholar with excellent teaching skills. Specialist in Vermeer and Rembrandt. VIP entry. Avoid crowds: Best entry time is 9 AM.
Drs Kees Kaldenbach: "…he is wildly overqualified to be a guide . That is his secret… Trust me on this." Gabe. Statement made February, 2017.