Rogier van der Weyden, genius painter. Visit his best works now in a Powerpoint presentation.
New, June 2020. Master Rogier, Flemish Primitive, a genius artist.  Now in great Powerpoint presentation, online, live, via Zoom. Available as of today. With live commentary by author Drs Kees Kaldenbach, art historian. Excellent sharp images, taken in various art museums.
Master Rogier van der Weyden. Born c 1400-died 1464. Student of Master of Femalle aka Robert Campin. Alternative spelling: Rogier van der Weijden. Aka Roger de la Pasture.
He was one of the forerunners of Flemish Primitive artists. Primitive strictly in the sense of arriving first, primus.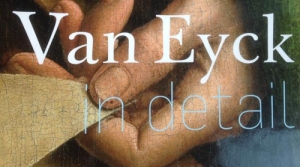 Top 3 of early inventive, groundbreaking Flemish Primitive artists:
Robert Campin = Master of Flemalle, born 1375 , d. 1444
Jan van Eyck, born 1390, d. 1441
Master Rogier van der Weyden, born  c 1400- d. 1464
In this presentation we are able to visit  in super sharp detail his best works in Prado, Madrid, and in the nearby Escorial. We also see Master Rogier's works  Gemaeldegalerie, Berlin and the Louvre, Paris.
"The lectures continue to inform and entertain…I'm already getting rave reviews". Sarah, a private art group now taking their 7th consecutive class with Drs Kaldenbach. September 2020.
Feedback, 31 July 2020, from Carnegie museums of Pittsburgh after my Zoom class on Van Gogh: "The class was a great success, and we would love to work on scheduling another class with you featuring Vermeer and Rembrant.".  Feedback 25 August 2020: "You are our most popular presenter and we will book you for many more presentations."
Feedback August 2020 from Providence Art Club, with a rich history of 140 years of lectures: "Your class was extremely well received, we will make more bookings this year."
Feedback, August 2020 from the Arts society Sebarts .org in Sebastopol, California. "We loved your Zoom classes and will book more!".
Feedback December, 2020: "Hello Jeannette, Today's webinar was absolutely wonderful.. content, delivery. I learned a lot and thoroughly enjoyed the hour.. When the professor asked if he could go longer, I was inwardly yelling. "Yes, please!!! "This professor is wonderful..a natural teacher and obviously an expert on Van Gogh and the time. Makes me yearn for my college days. I truly hope you will keep me in mind for future presentations like this."
Contact now: kalden@xs4all.nl