Velázquez, an excellent Powerpoint presentation
Velázquez, the Spanish painter (1599-1660), lived exactly in the same period as the Dutch 17thC Golden Age artists, and he is (I must grudgingly admit) as good as the very best Dutch artists. He is up there in the international artistic heaven with Caravaggio, Rubens, Van Dyck… In this live powerpoint presentation lasting for about 1 hour, using Zoom, I will show you the very best of his works in Hi-Res images of the masterworks listed below. With live commentary, and I can answer any question during the presentation.
"The lectures continue to inform and entertain…I'm already getting rave reviews". Sarah, a private art group now taking their 7th consecutive class with Drs Kaldenbach. September 2020.
A few of the topics:
Early Bodegon Still lives, 1618 and later. Two-for ones with biblical scenes.
The Triumph of Bacchus (1628) celebrating the God of Wine and boozing street characters in Madrid.
Apollo in the Forge of Vulcan (1629) a fine History work.
The Surrender of Breda (1634-1635) showing magnanimity by the Spanish victors. They would get kicked out of The Netherlands soon again!
Portrait of Juan de Pareja, bought by the MMA for almost 5.5 Million US Dollars in 1970. As good as Rembrandt!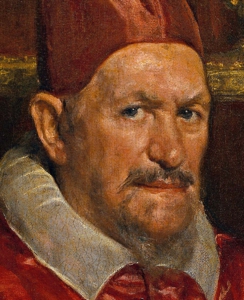 Portrait of Pope Innocent X (1650) probably one of the most vibrant and flaming ones in art history.
La Venus del espejo, The Rokeby Venus (1647-1651) a nude fashioned after an ancient Greek sculpture.
The Spinners, Las Hilanderas (before or after his Rome trip, 1650) with much intelligent complication.
Las Meninas (1656). Showing art life in Court life. Amazing!
This Zoom class can be given live with Zoom at any moment, from my desk in Amsterdam, Holland. Email me at kalden@xs4all.nl
Feedback, 31 July 2020, from Carnegie museums of Pittsburgh after my Zoom class on Van Gogh: "The class was a great success, and we would love to work on scheduling another class with you featuring Vermeer and Rembrant.".  Feedback 25 August 2020: "You are our most popular presenter and we will book you for many more presentations."
Feedback August 2020 from Providence Art Club, with a rich history of 140 years of lectures: "Your class was extremely well received, we will make more bookings this year."
Feedback, August 2020 from the Arts society Sebarts .org in Sebastopol, California. "We loved your Zoom classes and will book more!".