Discover Amsterdam early roots of Capitalism, and the VoC story
The worlds first Capitalist, Multinational, Stock issuing Company: the United East India Company = the Dutch Vereenigde oostindisch Compagnie (VoC).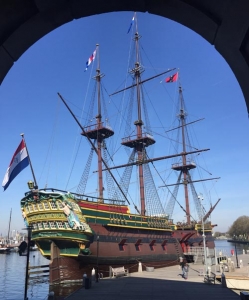 Join me for an educational tour about trade and capitalism. We will meet and then start our walk from Dam Square, once the nerve center of political power, to the great canals. Our main spot is the Headquarters of the famous and unique United East India Company (in Dutch: VoC). In this HQ were the was the boardroom for Directors, the Gentlemen 17, and the all-important offices including Warehousing, Bookkeeping, Medical Doctors, Planning, Secret Map Room, allowing this multinational, capitalist firm to exist and trade for nearly 200 years.
Uniquely, the VOC became the first stock-issing company and thus stood at the birth of capitalism as we know it. I will explain on how the stock was issued. And how dangerous nuclear financial products were unleashed: Forwards/Futures, Options, Repos, Short. In the simple form, Stock, slowly each contract sheet of paper was filled to the 100% level and then it became freely tradable, without a person's name on it. The story how the first stock was issued and the stock market was invented forms part of this amazing VOC tour.
Overseas, the VOC was a money making machine and trade was sometimes done at gunpoint, maximising company profit and ensuring a hard existence for the population out there.
Each ship needed to be staffed and manned. Most crew members, especially soldiers, came by foot from Germany. In the courtyard of the VOC building I could tell blood curdling tales of the tough masculine life on board the tall ocean going ships. Life was hard on sailors and soldiers on board. But there were also fun days, with singing and storytelling. Adventure!
Before entering the ship, the crew walked to Amsterdam from far away (Scandinavia, Germany, Belgium) and had to be lodged; but being very poor they could only choose cheap and dirty boarding houses with a personal link to their old nation of home town. I will you tall tales of how the landlady often was in cahoots and wrenched good money out of these poor men by signing an IOY.
Larger images are available on this old school site.
https://www.youtube.com/embed/nKryvjmJbM0