Various Amsterdam Architectural and History walks 
A pleasant 2 or 3 hour walk in Amsterdam with an expert in local history and architecture.
These walks show you the fabric of a 17th C inner city, still intact. The four great canals give it an incredible atmospheric beauty. Various choices:
Four big Canals walk, Prinsengracht, Keizersgracht, Herengracht, Singel, with big time Traders, Bankers and Collectors, with their artists. And a 'Hofje', courtyard.
United East India walk, Birth of Capitalism, including Dam Square area and a visit to the VOC Headquarters.
Jordan / Jordaan Workmans Lower Class District walk.
Women of Amsterdam, Fish-wifes to sex workers.
Jewish life in Amsterdam, and the World War 2 tragedy.
John Adams, second president of the USA started as envoy in Amsterdam
The Old Church + New Church + Our Lord in the Attic both in the Red Light District
Harbour Docklands Revitalisation. Great new architecture projects, studied by many specialists.
Grafitti, 332 years old, by councilman and madman Coenraad van Beuningen (1622-1693)
Exciting 1920's Expressionist Architecture, called "Amsterdam School" expressionism.
Gay, Lesbian life: LBGT in Amsterdam
Alcohol in Amsterdam, through the ages
Amsterdam Science History walk
Medical Science in Amsterdam
Amsterdam for Journalists and book Authors
Amsterdam for expats
In-depth walks for CEOs, Patrons and Board members
German / Deutsch: Spaziergaenge
Drs Kees Kaldenbach: "…he is wildly overqualified to be a guide . That is his secret… Trust me on this." Gabe. Statement made February, 2017.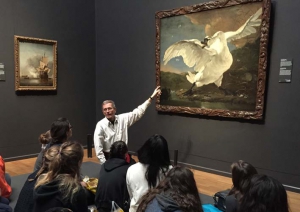 AMSTERDAM CORE QUALITIES
From spring to winter Amsterdam and other historic Dutch towns offer a creative, energetic and vibrant civic culture full of life. Great for a visit. Dutch towns present a well-ordered, neat society marked by historic architecture, a fine set of canals and streets and these core qualities:
Civic virtue, Spirit of Enterprise, Freedom of Thought and Creativity.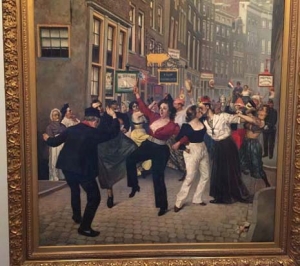 Civic virtue: the local traders and businessmen forming their own power base and becoming more powerful than the old nobility.
Spirit of Enterprise: An attitude of outward looking, sailing the seven seas of the world looking for trade, profit and spheres of influence.
Freedom of Thought: Erasmus on the high worth of every individual man. Coornhert writing law texts on how to be decent to prisoners. Grotius inventing international Sea law: "make peace, not war", Spinoza jump-starting modern individualism and freedom of thought, opening the first door to the Age of Enlightenment.
Creativity: A country brimming with art, industrial design, out-of-the-box attitudes, a sense of humor and lateral thinking. Provo, hippies, youth culture and anti-authoritarian attitude starting out as fringe movements, and their lifestyle becoming mainstream.
Amsterdam is one of the best preserved inner cities. Walk with professional Art History Scholar with excellent teaching skills. Focus on History, Architecture, Society. In-depth or general level. Mornings are best.
Tours by Drs Kees Kaldenbach, a professional Art History scholar with excellent teaching skills. Specialist in Fine art and Design, Architecture and History. VIP entry.
Drs Kees Kaldenbach: "…he is wildly overqualified to be a guide . That is his secret… Trust me on this." Gabe. Statement made February, 2017. d