A  walk along the four grand, major Old Amsterdam Canals
Prinsengracht, Keizersgracht, Herengracht, Singel, their individual character and their history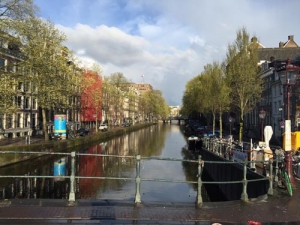 Join me for a great inner city walk. The four main canals of Amsterdam form the best preserved large 17th century inner city ensemble anywhere in the world. This man-made set of 4 semicircular canals area with their characteristic canal houses are now part of the UNESCO world heritage list. Wonderful rhythm, unadorned styles and a feeling for subdued posh design in architecture. No ornament and no frills! There is more than enough natural harmony and beauty in surfaces, brickwork, window spacing and the roof line.
In May, 1940 the Dutch government made a momentous decision, just after Rotterdam was flattened by the Nazis. The Nazis threatened to eradicate all ancient Dutch cities. The Royal House and the cabinet of Ministers fled to England, leaving this country in the claws of German occupation. This decision saved the architecture, but not the 104.00 Dutch Jews who were murdered.
The world of nature is represented in a market on a short stretch: the flower market at Singel / Munt abounding with thousands of tulip bulbs and hundreds of other flowers and plants.
The names of the four main canals – Prinsengracht, Keizersgracht, Herengracht, Singel -, can be perfectly memorized from the outside to the inside one: Please Kiss Her Softly. We will discover those main canals starting with P K H S. Each canal has its own character, style and objective: trade, storage, housing, including the bedt housing to Impress the Neighbors on Herengracht…
When we walk in the area of Dam square and Oude Hoogstraat we may also discuss how the United East India Company (VOC) was created, starting modern capitalism and the stock market as we now know it now.
The canals were built in four phases of  extensions. The third extension was the largest and started in 1609, and stretched all the way from the Brewers-canal including the Jordan area to the Leidsegracht (Leiden-canal) as a temporary stop.  After population growth, the fourth extension started from there in 1660. Standing on the Leidsegracht, Leiden canal one can actually see two building phases.
We may also make a detour to the Beguin Court (Begijnhof).