Amsterdam for for University groups, Journalists and Writers
Practical help with research, fact finding, inspiration and more
During the last 20 years, I have taught many university groups and PhD student groups travelling in Europe in order to broaden their outlook on societies. Usually this takes the form of extended walks in the city with stories that fit that proper site. I can also present topical workshops and lectures.
Feedback: "We had a delightful tour of Amsterdam with Kees Kaldenbach. He is knowledgeable and passionate about the city, and is very good at making the details of many aspects of the city come alive. Many students in our group continued to talk about the tour throughout the day. That's solid evidence of good teaching, This tour was one of the high points of our visit to Amsterdam!" David Wong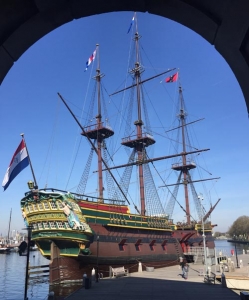 For journalists and writers on Amsterdam subjects, I provide practical help with research, fact finding, inspiration, gopher jobs, opening doors and more. I have studied local history extensively over the last 45 years. Lots of knowledge of facts and philosophy are thus stored  in the hard-drive inside my brain. I can thus help you with many pointers and ideas.
I have also assisted many journalist and writers with walks for the Dutch Tourist Agency in Amsterdam Walks during the last 20 years.