Rembrandt!
A great AtHome lecture on Rembrandt for a maximum of 7 persons will be your excellent preparation for your visit to the Rijksmuseum in Amsterdam.
And it prepares you for the Rembrandt House, his former home.
And it prepares you the Mauritshuis museum in The Hague.
In 2023 I presented many art lectures at my private home in order to prepare my clients for the great blockbuster Vermeer show in the Amsterdam Rijksmuseum.
These At Home lecture presentations by art historian and art consultant Drs Kees Kaldenbach will continue. In order to give you an in-depth knowledge and perspective. And great layers of visual enjoyment. Not only of Vermeer but also for Vincent van Gogh and Rembrandt.
Review / Testimony by and art and antique dealer: "Hello Kees,We want to express our greatest appreciation for the wonderful two hours you spent with us. Those two hours significantly enhanced our enjoyment of the Vermeer exhibit that we visited this morning. You are just GREAT! Roger and Carol"
"Kees, it really was delightful being with you today. You are a font of incredible knowledge." Greg Rohan, director of Heritage Auctions, the nr 3 largest Art auction house in the USA.
"Dear Drs Kaldenbach, Thank you so much for the great presentation today. We all had a great time and learned a lot. We went to exhibit and it was amazing, and so much more because of your introduction. Let's stay in touch. Regards, Iona and Ari."
Below for more Rembrandt
The Rijksmuseum (State museum)  in Amsterdam opened in 1885 and has been a runaway success ever since. Back then, in full nationalistic fervour, the Rembrandt's painting The Night Watch was glorified as the National Icon and was given pride of place in the new museum, in the position akin to the High Altarpiece in the setting of the Gallery of Honour resembling that of a Roman Catholic church. This setting designed by architect Cuypers caused so much consternation that the King was advised by the largely Protestant government not to be present at the grand opening.
About this teacher: Drs Kees Kaldenbach is an art historian having dedicated his professional life to the Dutch painters Vermeer, Vincent van Gogh and Rembrandt. He appeared in countless TV documentaries including BBC and Japanese TV and he is member of the Amsterdam Early Modernity / Golden Age circle of professionals.  He is the author of a book on Vincent and a Dutch Museum book and also the as yet unpublished book on Vermeer. Drs Kaldenbach has been lecturing and guiding in museums both in Holland and International for 22 years.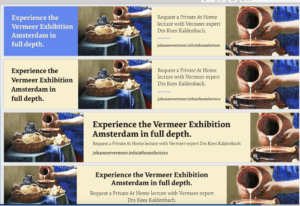 Review / Testimonial by Kierstin, March 2023: "Thank you again for such an insightful two hours discussing Vermeer and his mysterious paintings.  I felt especially lucky to have a one on one session so I could ask my many questions, to which you always had an answer!  Visiting the extraordinary exhibition after our discussion truly enlightened my experience and I would not have looked at the artworks the same way, or looked for specific details had we not met.  I am incredibly grateful for your time, knowledge, professionalism, storytelling, etc.  What a treat!  I would highly recommend others to take the time meet with Kees. 
Lecture, March 6, in the Hilton hotel Amsterdam for about 150 members of the American Women's Club: "Thank you so much for your presentation yesterday. Sorry you didn't know the group was going to be as large as it was. Everyone really enjoyed it, so we are really grateful that you were able to talk to our group."
"Thank you for your time today and sharing your knowledge with us. It was very inspirational and I look forward to seeing the exhibit in May."