About Art historian Drs Kees Kaldenbach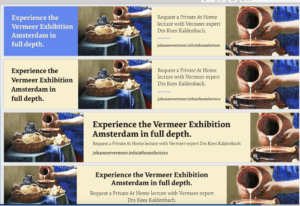 As a leading fine art expert and art historian Drs Kees Kaldenbach has written an extensive web site on Vermeer: https://johannesvermeer.info
He has collaborated in fine arts television programs by networks such as BBC2, BBC3, BBC4, CNN, DKR Denmark, NPS Dutch TV, NTV Japan and lately Radio France. He has also worked with radio programme makers (RNW Radio Holland). Kaldenbach has also written and published books and many articles on the history of art.
For many years he was Patron and is now Friend of the Rijksmuseum, Amsterdam and as a result his name is printed on the stairway wall !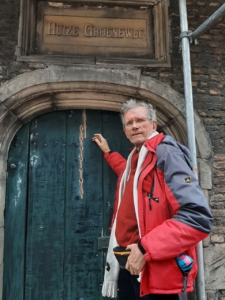 With his Amsterdam-based company Private Art Tours, starting in the year 2000, Kees has lectured a great number of art tours to groups ranging from 1 to 10 persons. He has also successfully addressed larger audiences.
Kees' main topics of discussion are the Dutch painters Johannes Vermeer, Rembrandt van Rijn and Vincent van Gogh. He has also spoken on the topics of Dutch urban architecture and the history of local institutions in historic Dutch and Flemish towns ranging from Enkhuizen in the north to Rotterdam in the south of The Netherlands and Ghent-Bruges in Belgium.
He is specialized in European museum visits notably in Germany and Austria.
Kees Kaldenbach is a learned and enthusiastic speaker who has a great capacity to share his deep passion for art history with others. His background as a teacher allows him to present complex ideas in terms that anyone can understand. In addition, his expertise in digital technology has led to a teaching position in summer programs for Emerson College, a Boston, MA-based multimedia university. He also presented lecture series on various cultural destinations as an Enrichment Speaker on ships of cruise lines. Some of those lectures attracted an audience of over 500 to 1000 persons.
In March, 2011 Drs. Kaldenbach was awarded the WikiDelft award for excellence.
Presently, Drs. Kaldenbach is an active member of the Early Modern (Golden Age) Circle of the University of Amsterdam, a multidisciplinary study group and think tank.
See the author's homepage and list of publications.
Super large Girl with the Pearl Earring, microscopic detail.
Pathway to Vermeer
About 50 years ago the Vermeer paintings were located in a faraway room some steps up behind the Night watch. On a typical day just one or two visitors were in that room.
What effect did it have on me: you could call it 'frisson', with goose pimples, the feeling something BIG was going on without it being clear what it was.
Then in 1977 when I saw the Art of Painting in Vienna the penny finally dropped. This was life a High-Res photograph of the painter's studio. I contacted the museum and the staff allowed me to see it outside of the frame in the early morning hours, standing on the floor. That was quite something.
Now after studying Vermeer for 50 years I know that he made no 'photographs' but fantasied compositions.
Stylistically the magic lifts you up, with magical powers.  Very strong images that burn themselves on your retina and brain. Forever.
One museum director gave a good quote: The Milkmaid. It explodes from the wall and stays with you.
The white background is highly unusual (in percentages perhaps 0,01 % of all paintings in the Rijksmuseum).