Beemster Polder – UNESCO world heritage
The Beemster Polder – or more precise Droogmakery (Drymakery) in North Holland has been designated an UNESCO world heritage
Plan A. I can show you, with a live Zoom connection, an outstandingly good presentation I just made from scratch this summer of 2020, taking my iPhone camera on various outings. I can share this one-hour visual talk any day of the week. Please consider the 6 hour time difference between Eastern time and Amsterdam time, where I live.
Plan B. As an art history guide, I can take you there in the flesh, but alas NOT in my own car due to legal restrictions – as I am not a taxi driver.  However I can meet you in Amsterdam or at the edge of Purmerend very close to the Beemster.
Why was this ridiculously large polder made at fantastic cost, more than three times the investment in the United East India Company, VoC. ? It was a money making scheme.  A lake produces fish and transportation opportunity. Dry land however yields farming fields for cattle or even better, fresh farm produce.
A large lake combined with a storm wind behaves in a DANGEROUS way.  Why ? The water wolf hit hard in the Dutch landscape. In a storm wind, the water wolf clawed wildly at the land… the storm-whipped undulating masses of water of a lake ruthlessly gulped at the edges of the existing lakes and devoured many meters, sometimes several hundred meters of land, in evil hours in evil hours, and the Water Wolf swallowed up on evil nights even whole villages. Partly due to continuous peat extraction (firewood was scarce and very expensive), the adjacent land had already become limp like a cheese with holes, an easy prey for the raging water.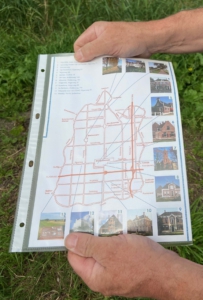 The solution was inventive but extremely expensive: embanking the lake with a ring dike, constructing a ring canal, milling the lake with windmills and drying the bottom of the lake; then divide it into land, roads and drainage, and thus tame the whole according to the most modern technology and ideas about the ideal geometric city and the ideal land, clearly divided into rectangles and strips, with the head of each strip of land (plot) on the road and the rear at the drainage ditch. Investor and number one advocate Dirk van Os was mainly active in the Beemster: he was a wealthy merchant in Amsterdam and co-founder and major shareholder of the VOC, with a top position as director. He bought land in the Beemster, 1150 'morgens', each about 0.9 hectare. He became not only a major shareholder in the VOC, but also an initiator and large landowner in the Beemster and a major landlord for farmers.
What few people know: In the VOC, a total of more than 6 million guilders was invested in the VOC from 1602 onwards, but a multiple of that amount was pumped into creating the series of Dutch polders. On the one hand out of fear of the water wolf, on the other out of healthy trade and smart investment opportunities and with the ideal of creating a perfect rectangular landscape with total technological control and control over water and land. A wonderful and moving experience for visitors from abroad.
Sea of Land by Wouter Reh and others. As a publishing product, this atlas is a work of art and a proud celebration of the very best in Dutch landscape architecture at its best. This spacious atlas contains a wealth of information in text for every major polder in the Netherlands (as the foreword states: a groundbreaking analysis at the 'intersection of art, architecture, urban planning, hydraulic engineering and economics'), with abundant and full color reproduction historically map material, composition drawings, technical structural sketches of dikes, country roads, waterways, tree construction, all of this widely measured and in color, superior aerial photos and additional ordinary photography at street level. It is an atlas to fall in love with and to take on your own exploration during a bike ride or a car trip.
The chapter on the Beemster (1612) shows convincingly which special landscape and design and engineering qualities are present there and shows why it is precisely this polder that is included on the UNESCO list of world heritage.
I would like to travel with you as an expert guide, either online via Zoom or in the flesh!
Feedback, 31 July 2020, from Carnegie museums of Pittsburgh after my Zoom class on Van Gogh: "The class was a great success, and we would love to work on scheduling another class with you featuring Vermeer and Rembrant.".  Feedback 25 August 2020: "You are our most popular presenter and we will book you for many more presentations."
Feedback August 2020 from Providence Art Club, with a rich history of 140 years of lectures: "Your class was extremely well received, we will make more bookings this year."
Feedback, August 2020 from the Arts society Sebarts .org in Sebastopol, California. "We loved your Zoom classes and will book more!".