About Art Historian and Museum Guide Drs. Kees Kaldenbach
Art Historian and Tour Guide Extraordinaire. Excellent museum docent. PhD level teacher about society and history. Cultural mediator. Take a curated museum tour with a master.
Art historian Drs. Kees Kaldenbach lives and works in Amsterdam and is specialized in European art. As an inspired teacher and public educator he uses lectures and online multimedia technology to present a rich tapestry of image information on European art history both for the public at large and for fellow art historians.
This is Kaldenbach's professional credo: Telling short stories in front of works of art so that clients may look at this art with more intense understanding.
In the Mauritshuis, 2018. I was guiding four clients. A lady was keenly eavesdropping and I invited her in for the next short subject, a talk about the Goldfinch by Fabritius.
This was her emailed response a day later:
"Dear Drs. Kaldenbach, I want to thank you for including me "for two minutes" today during your tour session. It was very nice of you to perceive my interest in knowing more about The Goldfinch painting. The information was extremely interesting to me. I have been to a few museums during my visit to Amsterdam and paid for tour guide's services. However, I learned more from you in those two minutes than an hour with others. Your kindness to include me was appreciated and want you to know your knowledge about art is inspiring.
My best, Jil Jensen."
He gives Masterclasses in Museum tour guiding.
He has published widely – and has written and designed an important website (2000+ items) on the art of the 17th century Dutch painter Johannes Vermeer, as well as on other Delft artists: www.johannesvermeer.info. He offers guided tours to fine art museums in Holland and elsewhere in Europe as 'Traveling Professore'. Specialized in International European museum visits with clients. Also in France, Germany, England, Austria and Ireland.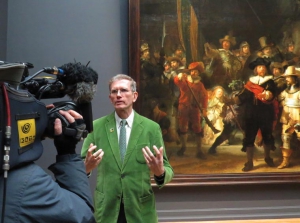 Guaranteed: no five dollar words…   Five dollar words are large words, hard to pronounce, unnecessarily complicated and pretentious…  When we meet I will tell you a priceless story about that word.
In 1975 Kees started of as elementary school teacher, and that basic educational docent craft is paying off! Later on, after his academic training as an art historian, communication is still executed with easy words. As a leading art expert, Kees has collaborated in fine arts television programs by networks such as BBC2, BBC3, BBC4, CNN, DKR Denmark, NPS Dutch TV, NTV Japan and an Italian documentary maker. He has also worked with radio programme makers (RNW Radio Holland, Radio 1). Kaldenbach has also written and published books and many articles on the history of art.
He is Patron / Friend of the Rijksmuseum, Amsterdam and therefore has privileged access with his clients – bypassing waiting lines. He also has VIP passes for other museums (most, except for Anne Frank House). With his Amsterdam-based company Private Art Tours, starting in the year 2000, Kees has lectured a great number of art tours to groups ranging from 1 to 10 persons. He has also successfully addressed larger audiences.
Kees' main topics of discussion are the Dutch painters such as Johannes Vermeer, Rembrandt van Rijn (all seventeenth century) and Vincent van Gogh and art life (nineteenth century).
He is also knowledgeable on topics of Dutch urban architecture and the history of local institutions in dozens of historic Dutch inner cities, ranging from Enkhuizen in the north to Rotterdam in the south of The Netherlands.
According to his many clients, Kees Kaldenbach is a learned and enthusiastic speaker who has a great capacity to share his deep passion for art history with others. His background as a teacher allows him to present complex ideas in terms that anyone with a middle or high school education can understand. In addition, his expertise in digital technology has led to a teaching position in summer programs for Emerson College, a Boston, MA-based multimedia university. From 2008 – 2010 he presented lecture series on various cultural destinations as an Enrichment Speaker on ships of the Celebrity cruise lines. Some of these lectures attracted an audience of over 500 to 1000 persons.
In March, 2011 Drs. Kaldenbach was awarded the WikiDelft award for excellence.
Drs. Kaldenbach is the chairman of the 'International Circle of Academic Tour Guides' (CATON). He is also an active member of the Golden Age Circle of the University of Amsterdam, a multidisciplinary study group and think tank, which meets monthly for lectures.
He was also supporting member of the Historians of Netherlandish Art (HNA), a member of the Consortium for Art and Architectural Historians (CAAH), a member of the Association for Art History (AAH) and a member of the International Society For Mathematical And Computational Aesthetics (ISMCA).
For clients, he carries out freelance research in Dutch archives for third parties.
Drs Kees Kaldenbach: "…he is wildly overqualified to be a guide . That is his secret… Trust me on this." Gabe. Statement made February, 2017.
"We had a delightful tour of Amsterdam with Kees Kaldenbach. He is knowledgeable and passionate about the city, and is very good at making the details of many aspects of the city come alive. Many students in our group continued to talk about the tour throughout the day. That's solid evidence of good teaching, This tour was one of the high points of our visit to Amsterdam!"
Contact at kalden@xs4all.nl
Cell phone +31 6 2868 9775
Home phone +31 20 669 8119
Payment is possible through Visa, Paypal or cash.