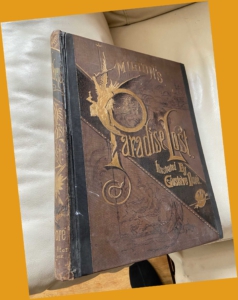 On offer
John Milton. Paradise Lost.
 Dore plates.
Peter Fenelon Collier Publisher, New York
Edited, with notes by Robert Vaughan, DD.
Lithographic folio plates by Gustave Dore
First impression.
Hardcover bound in a brown embossed cardboard spine and heavy end boards with both covers and the spine decorated with gilt motifs and borders. First edition, first printing in near Fine condition. A Limited Edition with Gustave Dore detailed illustrations. Decorated endpapers, hubbed spine and Original end papers with marble pattern. This beautiful book is about 9 3/8 by 6 1/4″. Internally in very good condition. No foxing.
Published by London and New York: Cassell, Peter, and Galpin, [circa 1880s], 1880,
originally published 1866.
Edges are browned, not gilt.