Jewish Historical Museum, Amsterdam
Join me for a visit to this outstanding Jewish Historical Museum. I think it is one of the top-ranking Jewish museums in the world (as I have visited about twenty Jewish museums across the world). This Amsterdam one includes not only thousands of historic objects, very well displayed, but it is situated within a number of full size Ashkenazim (German branch) synagogues and also has a mikwe (ritual bath) down below.
New: Private Audio system available.
Inside, in the various halls you see the history of Jews during the Golden Age – with laws for separate life for Jews, being banned from most Guilds. The rise of philosopher Baruch de Spinoza, who became an outcast. He jumpstarted the Age of Enlightenment according to many historians.
Complete legal freedom for Dutch Jews started with the changes in Code Napoleon Law in the time of Napoleon around 1800, and the centuries of influx brought its sharp division of very poor and very rich, Ashkenaziem coming in from the east and Sephardiem coming in from the south, speaking different languages. Finally the 20th century brought untold misery with WW2. After 1945 the aftermath and rebuilding life started.
Let me tell you: I was born in 1953 and during my Elementary school years and High school years NOT ONE WORD was spoken by the teachers about what happened to Jews. There was total silence.  The silence started to be only partially broken because of national TV programmes in the 1960s and 1970s.
Next door to the Jewish Historic Museum, we may also visit the largest and finest Sephardic (Portugese) synagogue ever constructed, built in 1675 on a large scale, with massive inner columns. Within that compound a Treasury (below ground) has been opened and the historic Ets Haim library open (by appointment only) was built. The synagogue is open all days except Saturdays, and in winter on Fridays it is only open from 10-2. Your entrance ticket is combined with that of the  Portugese Synagogue.
The same ticket also gives access to two more museum buildings further down the street.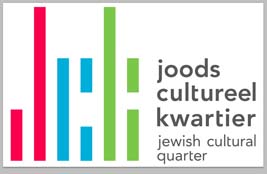 The entire quarter is known as the Jewish Cultural Quarter.