The Royal Palace, Amsterdam
(in Dutch: Koninklijk Paleis), on Dam Square in Amsterdam. A really humongous marble extravaganza Town Hall, glorifying the Dutch Golden Age.
Join me to better understand and appreciate this huge 17th C building. The building now known as Royal Palace started out its life as Town Hall, the largest Town Hall ever in Western Europe in that 17th century, built on a massive scale. It showed the world how wealthy and mighty the Dutch Republic had become in the Golden Age (c. 1600-1670). Learn about the inner workings and machinery of government of this largest and most boastful of 17th Century town halls – and about the transfer of property to the Royal Family around 1800. In hindsight, handing it over to the Royal family protected the building from architectural changes. For day-to-day affairs all municipal offices of the Town Hall were moved out to another address in Amsterdam and therefore little damage was done during the 19th and 20th centuries.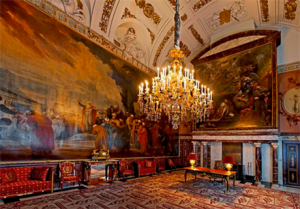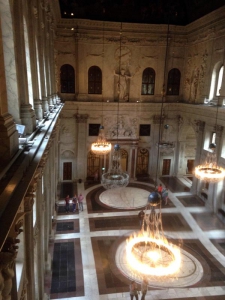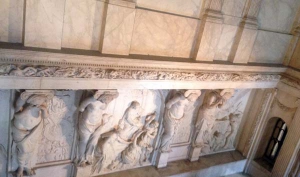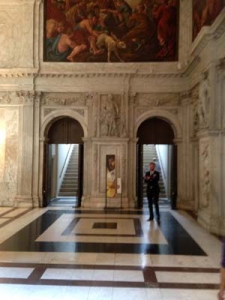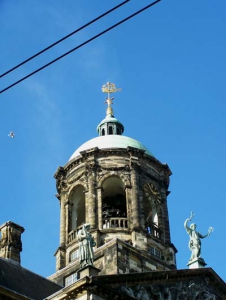 Aficionados and fans of French Empire style furniture (about 1800) will find the world's biggest and best coherent collection of that French Empire style here. It was ordered directly from French manufacturers during the time when Napoleon's brother was head of state here and wanted to make a splash.
Inside we find power play and power flexing on a massive scale: the 4 Lord Mayors (Burgemeesters) and the Council of 36 (Vroedschap) convened and decided on city policy but also about European and World affairs as Amsterdam was the greatest military and trade power from about 1600 – 1660. The city's functioning needed many types of offices: finance, building permits, marriage, bankruptcy, policing, law and order, military troops.
I will show you the marble room in which judges could pronounce capital punishment. In those days the chance of getting caught was small but the punishment was harsh.
The present day interiors show paintings and furniture of many ages. Troughout the year, is is sometimes reserved as the formal setting of state occasions like State Visits, State Dinners, Welcoming the new head of State, and other public functions. The building is however open to the general public on more than 250 days in a year. Please check the Palace web site for opening days and hours, as they may be in flux.
Testimonial from Gabe (February 2017): "Drs Kees Kaldenbach: "…he is wildly overqualified to be a guide . That is his secret… Trust me on this."
I will bring an extensive, illustrated  folder showing you the functions of the many rooms on many floors in the seventeenth century.