Wallace Collection, London
Ancient armour and Fine Art painting in the Wallace Museum
NEW Virtual Visit. Because of the Corona shutdown, I now offer a digital museum visit, using Zoom combined with my image bank. Call me for a live virtual Zoom class visit appointment! Enjoy a private Powerpoint presentation with your own 'Professore'.
At least 10 Must-see items.
When all is well again: A visit with your own art historian, flying in for you.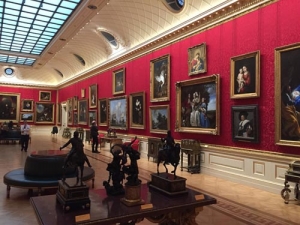 Join me for a visit to Wallace Collection, London.  I will be your private professore, travelling in from Amsterdam, Holland specially for you. Tour by Drs Kees Kaldenbach, a professional Art History scholar with excellent teaching skills. Specialist in Fine art and Design, Architecture and History. VIP entry. Entry best at from 9 or 10AM.
Please note, this is a high level offer. Practicalities: I live in Amsterdam, Holland and do NOT run a travel agency.  I do however provide Fabulous international museum tours. The plan is that you contract me for one or more days as your private 'Professor' and offer full transport to that city, plus hotel accommodation in the same place you will stay. We will spend quality time together in mornings and early afternoons.
You can hire me and I will fly in to be your own outstanding private "Professore". At your cost, I will fly in especially for you and I will guide you after spending a hotel night. And then a very memorable museum visit or two. Please book a time slot ticket for yourself and for the guide. New: Private Audio system available.
Almost a well-kept secret, the Wallace collection is situated in a quiet square. It is full of the finest Dutch art, including the outstanding work is by Hals: a Merry Officer. Plus great works from other schools. Plus great collections of ancient armour, weapons, the Arts of War, plus lots of strange and wonderful items. A quirky collection!
Building: the former grand 'townhouse' of the Seymour family, Marquesses of Hertford. The collection comprises a world-famous range of fine and decorative arts from the 15th to the 19th centuries with large holdings of French 18th-century paintings, furniture, arms & armour, porcelain and Old Master paintings arranged into 25 galleries.
Overview of International tours (outside Holland)