Berlin museums for free!  On the first Sunday of each month there is free entry possible in Berlin museums. This is called Museumssonntag Berlin.
You will find that booking through the individual museum pages is totally impossible. It seems like they are sold out for months in advance.
Yet it is possible… This is how it is done:
Pre-Booking is necessary, with an exact date and time block via https://shop.museumssonntag.berlin
This can only be done exactly 1 week in advance.  I even got up at 3 in the morning to get as many available time blocks and it was worth it.
There is a limit of 2 ticket for each request but you can make multiple requests. For each new request you will have to stop and delete your browser and start again. You live and learn !
Go to https://shop.museumssonntag.berlin
Step 1. Choose your museum. There are about 20 different ones! Go to the field Museen and select under Bitte auswaehlen (=Please choose) . Then go to the BLACK switch Weiter (=Contiunue).
Step 2. Choose the date. There is a limited list of each first Sunday of the month.
Step 3. Under Uhrzeit (=Time) you select the perfect time.
Step 4. Once the time is chosen then select the number of tickets (1 or 2) and continue with the black knob Buechen und weiter (=Book and continue)
Step 5. You will get a confirmation of Museum, date, time. Then choose Verbindlich buechen. (= agree to book)
Step 6. Choose the black knob Als Gast fortfahren (=Continue as guest)  In the Gast (=Guest page) Enter your full details.  Anrede is Male / Female / Unsure.  Next to AGB you agree the booking conditions.. Again the black knob Als Gast fortfahren.
Step 7. Now you can download the PDF ticket.
Yeee !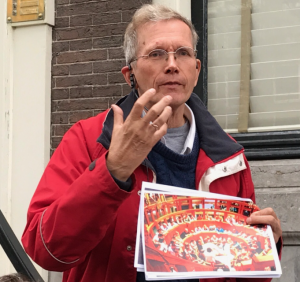 Please note : I live in Amsterdam, Holland and as your senior art historian am available as your Expert Expensive Private Museum Guide. You will have to provide train / air fare and my hotel nights. And enjoy my intelligent paid company. I speak English, German, Dutch and some French.
Contact via kalden@xs4all.nl