A great visit to the Boijmans-van Beuningen Rotterdam
(Please note: entirely closed for refurbishment up to 2024?)
Museum of Fine Art, started by Rotterdam Harbour Tycoons. Take a curated museum tour
The Boijmans museum in Rotterdam is generally considered the third most important Fine art museum for Dutch art (just after nr. 1. the Amsterdam Rijksmuseum and nr. 2. the The Hague Mauritshuis).
Until that time, I can show you my photo files made inside the museum.
The collection was jumpstarted in 1849 by the collection of the lawyer Boijmans, and much enlarged a century later by the wealthy local harbour tycoon Van Beuningen in 1958. Other collectors and tycoons followed suit, as they also wanted to amount to something, culturally, and to stand out – collecting fine art: 17th c, 19th c. and later adding modern design and modern art. In steps it grew into a large and interesting collection, reaching 140.000 items.
It has quirky strong collection areas, such as a group of Rubens sketch designs, and works by Magritte. It boasts a good set of  early works like Van Eyck and Brueghel, a room of crazy Mannerist works and a great and varied group of fine Dutch 17th c. paintings by good masters including Rembrandt (an unfinished oil painting, 'Unity of the Land' presents us with a chance to see the Master in action). Plenty of good works by other master painters of later days and ages including Impressionism and Expressionism.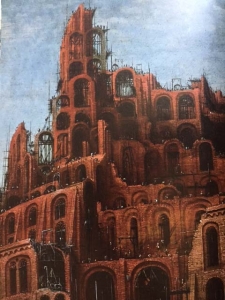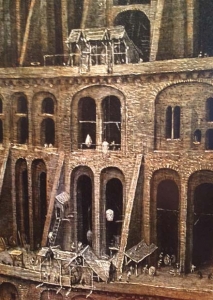 The Tower of Babel is a famous Bruegel painting exhibited here. The initial owner, Van Beuningen had this one at home and when the kids were being too noisy at home, he asked then to go count all the people in this painting. There must be thousands! Good educational ploy.
Hidden in a hallway, an object of fame and shame, is a Van Meegeren fake Vermeer, "Emmaus" bought for a ridiculously high amount of money. It now shows us a dirty 1930's style as an odd streak, a stylistic anomaly that was unrecognisable in the eyes of art specialists during the 'discovery' and the purchase extravaganza. This stylistic blindness is a very interesting phenomenon, psychologically.
We could combine this museum with a fine walking tour of Rotterdam.
Tour by professional Art History scholar with excellent teaching skills. Specialist in Fine art and Design, Architecture and History. VIP entry.
Drs Kees Kaldenbach: "…he is wildly overqualified to be a guide . That is his secret… Trust me on this." Gabe. Statement made February, 2017.
HOW TO GET THERE
Rotterdam is easy to reach with public transport, by train, just over an hour from Amsterdam. I hold a Dutch Railways rebate card. For this train tour I can offer you a special rebate of 40% for three separate adult railway tickets. This makes it economical for you as clients. I can join you from your hotel or from the Amsterdam train station.
Various other options are open to you: a) You can hire a car and drive it yourself, and I will join you starting in Amsterdam and will advise you about the best route. b) We can hire a professional taxibus service at around E 70 per hour for about 4 to 5 hours. On top of that you will pay me as the specialist guide. This is the more expensive option.
Tour by professional Art History Scholar with excellent teaching skills. Start best at 11 AM