Vienna, Austria, Art History Museum / Wien, Kunsthistorisches Museum
This is a unique offer for serious art aficionados.  I will be you private art expert, and fly in from Amsterdam, stay overnight in a hotel (all at your cost) and be your private art specialist, starting 10 AM when the museum opens and halls are still empty. There and then I will focus mainly on Netherlandish painting with highlights by Geertgen, Bruegel and Vermeer.
In October 2021 I have visited over 10 art museums in Vienna and I can show you my full image bank! Moreover back in your home I can show you a powerpoint presentation on Bruegel and Vermeer.
Geertgen
The painter Geertgen tot St Jans was given lodging and work space in the building of the Order of St John (aka Knights Hospitaller of St John in Rhodes) located in Haarlem, Netherlands.
Made in 1484/1490 these two remaining paintings were the front and back of the right wing of a large triptych. 
The Knights Hospitaller of St John in Rhodes once occupied and owned a large portion of what is now mainland Turkey. The painting was financed by a gift of Sultan Bayezid to the Order. This sultan conquered the Crusaders in 1396.
The story shows a number of consecutive scenes after Salome (daughter of Herodias) had danced and thus won the head of St John the Baptist, donated as a 'thank you' by her stepfather Herod Antipas. In a later time, the mortal remains of St John the Baptist were ordered by Julian the Apostate to be burned, but monks of the Knights of St John in Rhodes prevented this, wanting to keep these important relics for future use. This painting commemorated their heroic deeds.
To the left is the first Netherlandish group portrait coming down to our time. In the time of Frans Has (also from Haarlem) and Rembrandt the group portrait became an important specialisation in the Netherlands, actively engaging with the viewer of the painting.
The rest of the triptych was sadly destroyed during the Spanish siege of Haarlem in 1573.
The front and back of the remaining right wing were sawn thinly in half, so both sides are now now visible.
Bruegel the Elder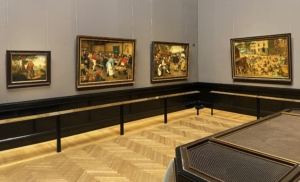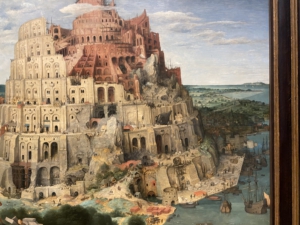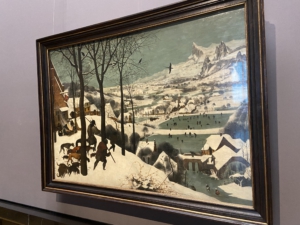 The very best group of Bruegel the Elder paintings  is in this museum. Later on in the privacy of your hotel I can also show you my powerpoint presentation on this powerful artist of Farmers lives.
Vermeer of Delft
To my personal taste the very best painting in the world by Vermeer is in this museum. Later on I can also show you my powerpoint presentations on Vermeer.
When I was around 27 years old, not yet art historian, I wrote to the museum and was allowed to see this painting on the floor without its frame !
Other artists.
Netherlandish and german painting abounds.