The Hague city walk
The Hague  is the seat of Government in The Netherlands
(its name in Dutch: Den Haag or 's-Gravenhage)
Join me for a great visit to a stately, posh, uppity city. The Hague (Den Haag), our educational and fun day trip, is the national seat of Government and is situated in the Dutch province of South Holland. It has an elevated, stately atmosphere. As the Hague is the seat of the government of the Kingdom of  The Netherlands it has many official institutes and ministry buildings. The city is so extended we cannot walk it all, and we should also take some trams or taxis from time to time.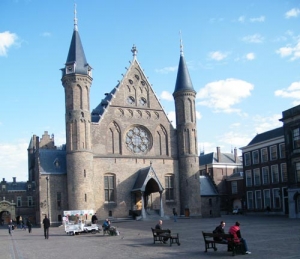 Near the Mauritshuis, the incredible treasure box of Royal paintings, is the inner court of the Counts of Holland, now the Houses of Parliament.
A little further is the tree-lined lane with stately Embassies. I can tell you stories about friendship and strife between England and Holland and also about international intrigues. The French ambassador had a big ego – and there is a wonderful story how stately carriages coming from opposite sides got stuck and nobody wanted to back down. A Dutch politician arrived, looked and cleverly defused that situation.
The grand, stately Hotel des Indes is a great place for a cup of coffee or tea, to get a whiff of the Colonial days when the Dutch were masters of a world Empire stretching from Indonesia to Surinam, north of Brazil.
We can also stop at the massive gates of the International Court of Justice. The history of how it was started and how it functions now is worth it.
The fine sandy beach at Scheveningen is close by. There is also a fine quiet harbour with fishing ships.
A taxi ride outside The Hague may take us to the brand new museum for Modern art, Voorlinden Museum in Wassenaar. This is a result of unlimited money for great Modern art, plus vision, plus good taste, fine architecture, all set in a perfect landscape.
Larger images are available on this old school site.
HOW TO GET THERE
The Hague is easy to reach with public transport, by train. I hold a Dutch Railways rebate card. For this train tour I can offer you a special rebate of 40% for three separate adult railway tickets. This makes it economical for you as clients. I can join you from your hotel or from the Amsterdam train station.
Various other options are open to you: a) You can hire a car and drive it yourself, and I will join you starting in Amsterdam and will advise you about the best route. b) We can hire a professional taxibus service at around E 70 per hour for about 4 to 5 hours. On top of that you will pay me as the specialist guide. This is the more expensive option.