Laws on Guiding
Rules in Museums in Europe for external guides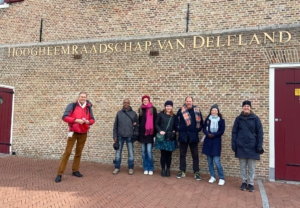 Good art museum guides have these qualities:
They are
very knowledgeable,
preferably university level,
enthused,
communicative,
with language skills,
fun to be with.
The following information on external guides (thus not those guides appointed by the museum itself) was gather by me in 2022; The information is not guaranteed.
GERMANY / DEUTSCHLAND / ÖSTERREICH
Berlin Museums / Staatlichen Museen zu Berlin, Preußischer Kulturbesitz
If you want to book a license for our museums the cost is 30 Euros per group. As of now, you are allowed to guide tours with a maximum of 15 people. 
You can book the licensed tour here:
https://shop.smb.museum/#/products/tours?category_id=14
Tel.: +49 30 266-424242
dialog@smb.museum
Dresden Museums / Staatlichen Kunstsammlungen Dresden
External guides can purchase a guest license (25 EUR) provided they present us proof of their qualification i.e. a certificate of an arts degree (B.A., M.A., Dipl., Dr., PhD.). 
Furthermore, they must reserve a time with us in a timely manner, as we welcome many groups to our museums that must be coordinated.
If you want to purchase a guest license, we will need your date of visit, the number of persons in your group and of course a scan of the respective certificate.
We will then confirm, if capacities allow, or inform you of an alternative.
T +49 (0)351 4914 2000
besucherservice@skd.museum
info@wftga.org
www.wftga.org
FRANCE
Strict regulations are enforced in France.
https://www.fngic.fr/en/guiding/professional-license
The Prefecture of your place of residence (art R221-1 , R 221-2 du code du tourisme) will grant you the professional licence on presentation of documents certifying the completed educational-qualification level (License Pro Guide Conferencier) .
Your guide inside any national museum is required by law to wear at all times an Official Badge and/or a Professional Identity Card which must bear the official government logo.
Carte professionnelle de guide-conferencier
Les guides-interprètes auxiliaires à titre définitif et guides-interprètes locaux
info@feg-touristguides.org
secretariat@feg-touristguides.org
www.feg-touristguides.org
HOLLAND / NETHERLANDS
Generally the rule in Holland is: guiding is free for all… museum guiding and guiding on the street is also unregulated. There are exceptions:
Amsterdam Rijksmuseum
A round grey badge must be ordered beforehand, for free, and worn visibly while guiding.
https://www.rijksmuseum.nl/nl/groepen/registratie-gastrondleiders/registratieformulier
Group size maximum 12 persons.
For Amsterdam open air walks specifically
https://www.amsterdam.nl/en/business/rules-permit-tours/
street tours: Maximum 15 persons
Allowed between 8 AM and 10 PM only
Not allowed in the three separate red light districts. Infractions will result in a fine.
Tour guides need to pay specific city taxes: "vermakelijkheden retributie"
BELGIUM
Free for all. No exceptions.
ITALY
Strict regulations are enforced in Italy.
Local tours guides will be very protective of their position and income.
However if you perform as an external tour guide (without a proper Italian license) and get arrested by the Italian police you can start a law suit, stating European freedom of education. I talkes to one colleague who has won such a law suit.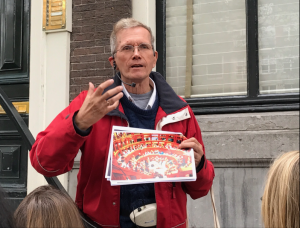 I provide excellent academic level tours.
Private Art Tours
Drs. Kees Kaldenbach
HaarlemmerMeerstraat 83 hs
1058 JS Amsterdam
Holland
===== tel. =====
tel +31 20 – 669 8119
cell +31 6 – 2868 9775
==============
email
kalden@xs4all.nl
https://johannesvermeer.info
http://www.facebook.com/PrivateArtTours