In-depth VIP museum visits for Museum Patrons and Board members – or other high ranking visitors
VIP entry for Museum Patrons and Board members in museums in Holland and elsewhere. High-level guided walks in historic cities.
In Corona times, you may also choose private Zoom visits for a select group.
NEW  Stolen Vermeer from Boston, resurrected.
In corona times: Digital visits with Zoom classes.
Visit 40 museums by seeing my digital photo files, 10.000 + images
New: Private Audio system available.
VIP entry to Museum Print Rooms, with private viewings of drawings, etchings and engravings in important museum collections. Also: Architectural walks.
VIP entry in museums before or after closing times (this is often only possible for Museum Patrons and Museum Board members, and sometimes also possible for private persons with ample extra funds to invest for this service).
Guaranteed entry at Rijksmuseum, VIP service. Best at 9 AM.
Guaranteed entry at Van Gogh, VIP service, with online booking.
Private boat tours in historic luxury wooden canal boats, with stories and insights told on the spot.
"Kees Kaldenbach accompanied a Samuel Courtauld Society visit to Amsterdam and Haarlem in May 2017, to support a Professor from The Courtauld Institute of Art. His organisation was extremely efficient. He was well-informed about the history and culture of the Netherlands across all historical periods, communicating a wealth of up-to-date information in a lively and accessible way."
May, 2017. Response written by Michael Sherry, Head of Communications, of the Samuel Courtauld Society, after a 4-day trip with Patrons and Staff. The Samuel Courtauld Society is the world's foremost art history university (alumni are found as directors in foremost art institutes worldwide) as well as presenting a collection of fine art in their London, England museum.
If you are organising a VIP programme for Museum board members or wish to give Museum Patrons an outstanding tour in VIP circumstances, please contact me. My role is to be a fountain of cultural and art history information "in a lively and accessible way", while leaving the organisation, flight, hotel and restaurant bookings to a company well versed in this work.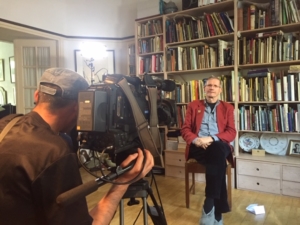 Also: At Home visits.
In the Mauritshuis, 2018. I was guiding four clients. A lady was keenly eavesdropping and I invited her in for the next short subject, a talk about the Goldfinch by Fabritius.
This was her emailed response a day later:
"Dear Drs. Kaldenbach, I want to thank you for including me "for two minutes" today during your tour session. It was very nice of you to perceive my interest in knowing more about The Goldfinch painting. The information was extremely interesting to me. I have been to a few museums during my visit to Amsterdam and paid for tour guide's services. However, I learned more from you in those two minutes than an hour with others. Your kindness to include me was appreciated and want you to know your knowledge about art is inspiring.
My best, Jil Jensen."
Also fit for CEOs, embassies, ambassadors, foreign exchange programs, government and ministerial exchanges, cultural programs.
Summer, 2007. "My husband and I travel the world to stay alive — to see with new eyes and stretch our minds. We love museums and fine food, sometimes stopping at out of the way Michelin-starred restaurants. With Drs. Kees Kaldenbach we had the best of both worlds. During the day we took a car trip to the Kröller-Möller sculpture garden and fine art museum, where we would certainly have missed the hidden staircase leading into the astonishing Jean Dubuffet's Jardin d'Email without him. Inside the museum, he gave us a humanities course on Impressionist painting, our favorite kind of art.  Later that day we drove to a picture-perfect village between Utrecht and Amsterdam, boasting a fine restaurant with one Michelin star, and there the three of us enjoyed an exquisite meal to end a perfect day. 
To fully enjoy Holland, you need a guide like Drs. Kaldenbach." Ambassador Julia Chang Bloch  President US-China Education Trust Washington, DC , USA
Steven Dalgleish, 2011: "Drs Kees Kaldenbach is one of Amsterdam`s most respected Art historians and leading personal tour organisers for all those discerning visitors interested in exploring the fabulously rich cultural variety and heritage that the city has to offer – Kees offers 48 different tours, all of which delve deeply into the very fabric of what makes the city tick in a highly informative and entertaining fashion – To view the wide variety of tours available and to see why Kees is so popular with tourists and visiting TV documentary companies alike."
Art historian Jeroen: "There are enough art tour guides who can relay dry facts. In the Amsterdam canal boats they have by now been replaced by taped voices. For someone like me, who already knows many facts, Kees Kaldenbach adds just those elements, which make a tour a real success: opinon and passion. To talk with Kees about Rembrandt and Caravaggio, to hear his specific angle and really talk in-depth is pure pleasure – while in the meantime he is honing your way of seeing. We have had a delicious afternoon. Jeroen."
Drs Kees Kaldenbach: "…he is wildly overqualified to be a guide . That is his secret… Trust me on this." Gabe. Statement made February, 2017.