Metropolitan Museum of Art, New York City
Digital Zoom visit, a fabulous Powerpoint, with live commentary, great in Corona times.
Drs Kees Kaldenbach, an art historian from Amsterdam, Holland now offers an outstanding digital Zoom tour, through his hand-picked items – highlights of the collection of the Metropolitan Museum of Art (MMA), New York City.
Art historian Drs Kees Kaldenbach has visited this institute hundreds of times, starting 1977 and is a worldwide respected specialist of Vermeer and Dutch art and  culture.  He collaborated with the staff of the MMA on the book Vermeer and the Delft School, edited by Walter Liedtke.
Complete list of all Live Zoom presentations.
This great Powerpoint presentation with ultra HI-RES images covers this ground:
The MET, being one of the richest Encyclopedic (all-round) museums in the world is a magnet for both normal New York City citizens and for international travellers. For rich and famous NYC socialites, to be personally associated with the museum through gifts and to be seen there during members-only openings is an important part of social life, creating spotlights on glitterati.
This class carefully chooses highlights: Early history of the Metropolitan Museum of art and the great donations by NYC residents.
Flemish primitive painting in the Cloisters (Campin / Flemalles) and in the 5th Ave building: Van Eyck, Van der Goes, Memling,
Dutch art at its weirdest: Ter Brugghen.
Italian art: Caravaggio.
Spanish art: El Greco. French art: De La Tour and LeBrun. Meisonnier, Gerome,
Dutch/French: Impressionists, Van Gogh.
German art: Bierstadt, and the eccentric Von Stuck, Klinger.
Please note: Dutch art with Vermeer and Rembrandt is presented in my other classes. Velasquez is also presented in another class specifically on this great court artist.
Some of those who donated works of art liked to keep influence and power beyond their grave. An example was Mrs Stuart, widow of sugar baron Robert L. Stuart, who warned she would retract her gifts if the MMA would remain open on Sundays!
Other collectors such as Benjamin Altmann wanted to keep their collection as a separate museum within the Met Museum. For a long time, the Met was obedient; later on the Altmann paintings were fused into the larger collection.
Still other donors made sure all of their goods including furniture and paraphernalia would be kept by the Met and never be sold. This situation results in the Met having to keep gigantic warehouses full of less wonderful items that rarely will see the light of day.
Feedback, 31 July 2020, from Carnegie museums of Pittsburgh after my class on Van Gogh: "The class was a great success, and we would love to work on scheduling another class with you featuring Vermeer and Rembrant.".  Feedback 25 August 2020: "You are our most popular presenter and we will book you for many more presentations."
Feedback August 2020 from Providence Art Club, with a rich history of 140 years of lectures: "Your class was extremely well received, we will make more bookings this year."
Feedback, August 2020 from the Arts society Sebarts .org in Sebastopol, California. "We loved your Zoom classes and will book more!".
"The lectures continue to inform and entertain…I'm already getting rave reviews". Sarah, a private art group now taking their 7th consecutive class with Drs Kaldenbach. September 2020.
Feedback December, 2020: "Hello Jeannette, Today's webinar was absolutely wonderful.. content, delivery. I learned a lot and thoroughly enjoyed the hour.. When the professor asked if he could go longer, I was inwardly yelling. "Yes, please!!! "This professor is wonderful..a natural teacher and obviously an expert on Van Gogh and the time. Makes me yearn for my college days. I truly hope you will keep me in mind for future presentations like this."
Today, because of Corona / Covid-19, most museums are less accessible; therefore I now offer remote live classes using Zoom and Powerpoint in order to share my vast knowledge. In these classes you have direct online contact with me in audio and in video images. This is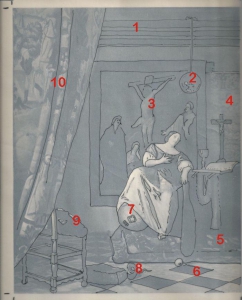 Distance learning at its best!
Enter 40+ art museums worldwide by tapping into my 10.000+ Hi-Res photographs.
My best programme is my series of still photographs taken of art works inside the Metropolitan Museum of Art (MMA), New York City in the course of the last 50 years.
Preview of my study of Vermeer, Allegory of Faith.
Listing of all Powerpoint art classes 
40 years of research: Enjoy the
Digital Vermeer House
, inventory of his actual interior of 1676 made by this author.
Any Question and Answer discussion you wish on Vermeer Art History. Live. With a 'Professore' with an excellent track record during the last 40 years.
---
How to make an appointment?  By phone or email.  Please note the 6-hour difference between Amsterdam, Holland and the East Coast of the USA.
Technical data:
Please send me an email stating your name and whether you wish to connect with multiple laptops. If we agree, I would need the email addresses of each party.
You need a computer or laptop with a webcam, and run Zoom software.
After we agree on the price, date and hour, and you send me the agreed money via PayPal or via Bank account, I will send you a Zoom connection link.
We can do a 1 hour or 1.5 hour session. With Zoom I can reach up to 100 email addresses, but for privacy sake you could start the meeting with your own circle of family or friends .
---
Feedback, April 2020: "I wanted to send a HUGE thank you for participating in our classroom yesterday. I really cannot say enough how much we appreciate all your help and energy towards this project.
We are still collecting feedback from our members and will send that along when we have it but overall I think it went very well!"