Closer to Vermeer
All Vermeer paintings; the fabric of Vermeer's life in Delft and unique archival treasures.
An Unpublished Vermeer book manuscript seeking a quality publisher. 
A Passion Project waiting to be kissed to life.
With an introduction by famous Vermeer author Arthur Wheelock, jr.
Over the last 40 years, art historian and art expert Drs Kees Kaldenbach has studied Vermeer, in-depth and with great passion.
The author has seen all Vermeer paintings, including the one stolen (Boston). As a result of original archival research, now an exciting and handsome manuscript, some 53.000 words long, with a wealth of illustrations, is now available to be published in English.
Publisher alert!
My book of 53.000 words should be mid-size (thus neither coffee table book, nor pocket size. It will list the complete 36 works by Vermeer.
There are only a hand full of personal documents regarding Johannes Vermeer. Therefore the web of economic and social connections should shed light on the work and life of the painter.
What makes this book stand out among others:
– Introduction by the famous Vermeer Author Dr. Arthur K. Wheelock Jr.
– based upon art historian Kaldenbach's 40 years of archival work
– scholarly, yet lucid and down to earth, written for an interested and educated public
– uniquely, contains autograph signatures of major characters in Vermeer's life
– discusses the military, scientific and economic situation in Delft, including Delft Blue
– a chapter on music; Vermeer's family was deeply active in playing music
– in-depth discussions of the View of Delft (Mauritshuis Museum) and The Art of Painting (Vienna museum)
– presentation of the Digital Vermeer House
Book Chapter division
Page xx        Foreword: Introduction by Arthur K. Wheelock, jr, formerly of the National Gallery, Washington DC. Dr. Wheelock and Drs Kaldenbach wrote a seminal article on the View of Delft in 1982.  
Page xx        Chapter 1: Introduction to Delft, a Military City                                                                              
Page xx        Chapter 2: An Absolute Masterwork: The Art of Painting (Vienna)
Page xx        Chapter 3. Vermeer's Paint Materials and Techniques
Page xx        Chapter 4. Music, Courtship and Love
Page xx        Chapter 5. Delft lens makers, Optical Experiments, the Camera Obscura
Page xx        Chapter 6. Artists and Artisans, Masters in the Guild of St Luke
Page xx        Chapter 7. Vermeer's Houses and Family History
Page xx        Chapter 8. City Institutions and Knowledge
Page xx        Chapter 9. Delft Blue Industry
Page xx        Chapter 10. Vermeer's Women: Poetry, Stillness
 Page xx        Chapter 11. Vermeer's Fame, Lost and Found
 Page xx        Chapter 12. Selected Bibliography
Page xx        Chapter 13. Treasures from Archives: Palpable connections to Vermeer, a giant of fine art.
Index
Optional extra: an XXL fold-out map of Delft with hundreds of dots representing artists, patrons and key buildings.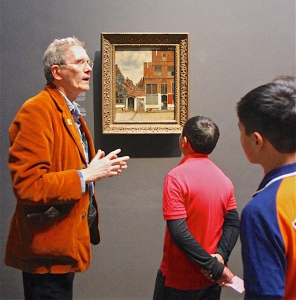 Discussing these Vermeer paintings, which are interspersed in the chapters above:
Diana and her Companions, The Hague. Chapter 6.
Christ in the House of Martha and Mary, Edinburgh. Chapter 3.
The Procuress, Dresden. Chapter 8.
Drunken Sleeping Maid at a Table, MMA. Chapter 10.
A Girl Reading a Letter by an Open Window, Dresden. Chapter 10.
Officer and Laughing Girl, Frick-NYC. Chapter 1.
The Little Street, Amsterdam. Chapter 7.
The Milkmaid, Amsterdam. Chapter 7.
The Glass of Wine. Berlin. Chapter 4.
The Girl with a Glass of Wine. Braunschweig. Chapter 10.
Girl Interrupted in her Music, Frick NYC Detail, chapter 4.
View of Delft, The Hague. Chapter 1.
The Music Lesson, London / Windsor. Chapter 4.
Woman (in Blue) Reading a Letter, Amsterdam. Chapter 10.
Woman Holding a Balance, Washington-DC. Chapter 10.
Young Woman with a Water Pitcher, MMA-NYC. Chapter 10.
Woman with a Lute, MMA-NYC. Chapter 10.
Woman with a Pearl Necklace, Berlin. Chapter 10.
A Lady Writing, Washington-DC. Chapter 10.
Girl with a Red Hat, Washington-DC. Chapter 10.
Girl with a Flute, Washington-DC. Chapter 10.
Girl with a Pearl Earring, The Hague. Chapter 10.
The Concert, ISG-Boston, (stolen 1990). Chapter 4.
The Art of Painting, Vienna. Chapter 2.
Study of a Young Woman, MMA-NYC.
Mistress and Maid, Frick-NYC. Chapter 10.
The Astronomer, Louvre. Chapter 8.
The Geographer, Frankfurt. Chapter 8.
The Lacemaker, Louvre. Chapter 10.
The Love Letter, Amsterdam. Chapter 10.
The Guitar Player, Kenwood-London. Chapter 10.
Lady Writing a Letter with her Maid, Dublin. Chapter 10.
Allegory of Catholic Faith, MMA-NYC Chapter 10.
A Lady Standing at a Virginal, London. Chapter 10.
A Lady Seated at a Virginal, London. Chapter 4.
A Young Woman Seated at the Virginals, Leiden Collection (Tom Kaplan) NYC; often lent out to public museums. Chapter 4.
Example of one discussion, in a visual way:
https://kalden.home.xs4all.nl/verm/Vermeer-AllegoryOfCatholicFaith.html
Publishers will save on copyright payments:  most images are free of copyright payments. Waiving all payments have been effectuated by: The Rijksmuseum, Amsterdam, Mauritshuis, The Hague, Metropolitan Museum of Art, NYC, etc. There is now a tendency to consider ALL 17th C art reproductions as being in the Public Domain.
Word count:
| | | |
| --- | --- | --- |
| Foreword: Introduction by Arthur K. Wheelock | 500 | |
| Table Contents + List of paintings | 970 | |
| Ch1 Military City | 6270 | |
| Ch2 The Art of Painting | 3190 | |
| Ch3 Paint Materials | 2000 | |
| Ch4 Music, Courtship and Love | 4900 | |
| Ch5 Optical Experiments | 3250 | |
| Ch6 Guild of St Luke | 5800 | |
| Ch7 Vermeer's Houses | 6000 | |
| Ch8 City Institutions | 4500 | |
| Ch9 Delft Blue | 2300 | |
| Ch10 Vermeer's Women | 9500 | |
| Ch11 Vermeer's Fame | 2100 | |
| Ch12 Bibliography | 620 | |
| CH 13 Treasures (approaching Vermeer) | 1000 | |
| Index? | 1000 | |
| Fold out map, XXL size, photographic reproduction | +300 | |
| | | |
| Total c. | 53000 | |
| | | |
| | | |
Rebate on Payment of Image Rights
A number of museums have waived payment of image rights: The Rijksmuseum, Amsterdam (4 Vermeers and some 30 support illustrations), Mauritshuis, (3 Vermeers)  and the Metropolitan Museum of art (4 Vermeers and some 5 support illustrations).
A small taste of the book manuscript: This is how Chapter 1 starts:
Chapter 1: Introduction to Delft, a Military City
Far from being a proverbial recluse, Johannes Vermeer (1632-1675) was an active man in seventeenth Century Delft life, not only as a painter and painting dealer, and member of the painters' guild, but also as a Guild officer and as an armed soldier in its Civic Guard organisation. Vermeer's small painting Officer and Laughing Girl reflects this civic guard life, and it looks almost like a high-definition photograph; it is crisp and sharp in luminous details. The paint surface resembles that of a lacquer box and the image invites us visually to enter a private house, c 1657, in the military city of Delft. We see a dominant male, oversized compared to the smaller size of the female. The man wears a hat made out of beaver fur, originally gained by fur trappers in the settlement of New Amsterdam / New York City and imported to Holland. The broad sash over one shoulder indicates his officer rank. In the period 1650-1672, thus during most of Vermeers adult life, the Dutch Republic was temporarily without a Stadtholder (hereditary steward, of the House of Orange), and the real the power was vested in city governments and civic guards, the latter grouped in platoons consisting of citizen house owners in one neighbourhood.
NEW Because of the Corona shutdown, I now offer a digital previews, using Zoom combined with Powerpoint. Call me for an appointment! At the moment, most museums in the world are either closed or very limited in entry. That is a rough, troublesome time for us art-lovers. But this is also the perfect moment to learn more about a a number of western painters, art schools, era's etc. I can guide you digitally through many, many art museums on Zoom. With the help of my 10.000+ image bank of my own photographs.
Introduction by the famous Vermeer Author Dr. Arthur K. Wheelock Jr.:
Kees Kaldenbach has spent most of his professional career as a Vermeer aficionado, exploring the multiple facets of this great Dutch artist and his beloved Delft, which is known the world over for its picturesque canals and thriving market square. This book, which brings together these years of research in a thoughtful and engaging manner, contains many insights that help explain the distinctive character of Vermeer's masterpieces, paintings that continue to inspire us in ever new and unexpected ways.
Kaldenbach's book consists of twelve lively and informative chapters, each subdivided into distinct segments that offer specific information about the artist and his work. He utilizes his deep knowledge of Delft's architectural, political, social, religious, and artistic character to place Vermeer firmly within this milieu. A major consideration for Kaldenbach is the impact of Vermeer's family life on his art, and the relationships Vermeer had with other artists and artisans, including those involved in the production of Delftware. Kaldenbach devotes special attention to Delft's scientific community, particularly lens makers, because of Vermeer's interest in optics and his use of the camera obscura. He based much of this information on archival documents, which he helpfully republishes in the book's concluding chapter.
At the core of this book are Kaldenbach's discussions of Vermeer's distinctive artistry. After considering Vermeer's materials and painting techniques, he identifies the artist's favorite themes, such as music, courtship, and love, and discusses the poetical quality of his works. Vermeer's use of symbolism in his genre and allegorical scenes is a topic that Kaldenbach examines with item-by-item assessments of specific objects in the Delft master's compositions. He also provides a chapter on the vagaries of Vermeer's reputation over the centuries. Enhancing Kaldenbach's text are a rich panoply of comparative illustrations, including historical photographs. Special insights to our understanding of Vermeer's paintings are also provided by digital reconstructions has Kaldenbach has made about Delft's buildings, streets, and waterways in the mid-seventeenth century. The rich body of information that Kees Kaldenbach has included in this publication about Vermeer will bring us closer to understanding the special genius of this endlessly fascinating Delft master.
Arthur K. Wheelock Jr.
Please contact author Kaldenbach at kalden@xs4all.nl