Amsterdam for Journalists and Writers
Practical help with research, fact finding, inspiration and more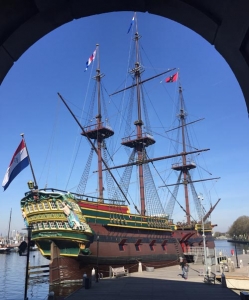 For journalists and writers on Amsterdam subjects, I provide practical help with research, fact finding, inspiration and more. I have studied  extensively over the last 45 years. Lots of knowledge of facts and philosophy are thus stored on my "portable hard drive" inside my head. I can help you with many pointers and ideas.
I have assisted many journalist and writers with walks for the Dutch Tourist Agency in Amsterdam Walks during the last 18 years.
You may get a kick out of the Ambassade hotel Library. Here, famous authors leave signed copies of their work when they stay there.
Tour by professional Art History scholar with excellent teaching skills. Specialist in History, Social movements, Fine art and Design, Architecture. VIP entry.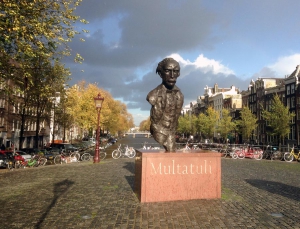 Drs Kees Kaldenbach: "…he is wildly overqualified to be a guide . That is his secret… Trust me on this." Gabe. Statement made February, 2017.
Image to the right: Holland most famous author, Multatuli, who single handedly blew up the system of repression in what is now Indonesia. His book was Max Havelaar. Still eminently readable, and translated into English.