Fine Art Gallery, Berlin, painting masterworks
Gemäldegalerie Alte Meister, on Kulturforum, Berlin. Your private VIP curated museum tour
100 must-see pictures.
Berlin Museum tickets blues Tickets for free – First Sunday of each month
NEW Virtual Visit. Because of the Corona shutdown, I now offer a digital museum visit, using Zoom combined with my image bank. Call me for a live virtual Zoom class visit appointment! Enjoy a private Powerpoint presentation with your own 'Professore'. Your private classroom. Languages spoken: Deutsch, English, Nederlands.
HUGE list of museums for digital visits via my photo files + Zoom.
New Powerpoint: Visit the very best works of Rogier van der Weyden, Flemish Primitive from the era of Jan van Eyck.
NEW  Stolen Vermeer from Boston, resurrected.
In better times, after re-opening: A visit with your own art historian, flying in for you. Please book a time slot ticket for yourself and for the guide. New: Private Audio system available.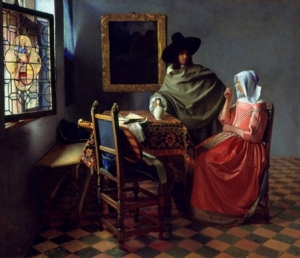 Join me for a visit to the great Berlin Fine Arts painting gallery, the Gemäldegalerie Alte Meister. I will be your private professore, travelling in from Amsterdam, Holland specially for you. This is one of the 10 best museums of paintings in the world.
Tour by Drs Kees Kaldenbach, a professional Art History scholar with excellent teaching skills. Specialist in Fine art and Design, Architecture and History. VIP entry. Entry best at from 9 or 10AM.
Please note, this is a high level offer. Practicalities: I live in Amsterdam, Holland and do NOT run a travel agency.  I do however provide Fabulous international museum tours. The plan is that you contract me for one or more days as your private 'Professore' and offer full transport to that city, plus hotel accommodation in the same place you will stay. We will spend quality time together in mornings and early afternoons.
Expensive option: You can hire me and I will fly in to be your own outstanding private "Professore". At your cost, I will fly in especially for you and I will guide you after spending a hotel night. And then a very memorable museum visit or two.
The Gemäldegalerie Alte Meister holds one of the world's leading collections of European paintings from the 13th to the 18th centuries. Its collection includes masterpieces from really great names: Albrecht Dürer, Lucas Cranach, Hans Holbein, Rogier van der Weyden, Jan van Eyck, Raphael, Botticelli, Titian, Caravaggio, Peter Paul Rubens, Rembrandt, Johannes Vermeer. It was first opened in 1830, on Bode museum, on Museum Island, and in the present day in the bunker-like brutal Concrete building completed in 1998. It is located in the Kulturforum museum district west of Potsdamer Platz.
The Gemäldegalerie collection does not, like many Galleries, root in a noble or dynastic royal collection, but was created by step by step acquisition by the Prussian government, beginning in 1815.  The museum was intended to reflect the full range of European art and to present it in a coherent and scientific way.
One of the grievous losses of Berlin was the central part of  Van Eyck Ghent altarpiece, once legally bought, but which had to be returned to Belgium as part of the War Repair compensation in 1920, part of the Versailles Treaty.
Some 25 years later, during the next World War, a large group of Berlin museum paintings were destroyed, among them the large Caravaggio shown here, Christ awakes the sleeping apostles. Formerly owned (among others) by the Kaiser-Friedrich-Museum (now Bode Museum) in Berlin. Other lost paintings were by Guido Reni, Francisco de Zurbarán, Jusepe de Ribera, Caravaggio and Petrus Christus. Also sculptures by Michelangelo and Giulio Mazzoni were lost since the battles of 1945. New: Two excellent Powerpoint presentations on Caravaggio, genius.
In November 2019 Sally Ross, painter from Australia and Drs Kees Kaldenbach, art historian, travelled together in for a week in Germany, visiting numerous art museums and galleries in Munich, Berlin and Frankfurt. We did an Intensive Art Immersion visiting the best art museums.
"I had the pleasure to be guided by Kees on a recent trip through major German art collections. Kees was generous with his considerable knowledge, particularly of Dutch painting. Always good humoured, relaxed yet attentive and a true art-lover, Kees was delightfully devoid of intellectual snobbism […]  Kees knows his stuff and he knows when to speak and when to let the art do the talking.  Thank you!
Sally Ross, Painter, Australia."
===
A year before, in November 2018, a client from Detroit, Michigan, USA invited me to join him and his wife in his mansion, and to accompany him and his friends to the great museums of Detroit and Toledo, Ohio. This was one review:
"Dear Kees, Thank you for sharing your vast knowledge with us yesterday. All of us in the group were impressed with your special connection to the art we examined. What makes you unique in my experience is your ability to break down mysteries into the pragmatic and manageable. The process, the techniques, the reflexion on history, and the business of art then and now are all evident when we seek it. Of course, you look deeper than just about anyone and have discovered treasure after treasure as a result. Quest forth. I hope you will find a publisher for your latest Vermeer work in the coming year.
Again, Dank Je, Kees. All the Best, Joe LoDuca"
===new in 2018===
Please open this on a big computer screen:
https://artsandculture.google.com
Choose categories => Johannes Vermeer
From the page with all 36 images, choose one Vermeer painting, then move the cursor over the right hand small image, after pressing the + sign.
===